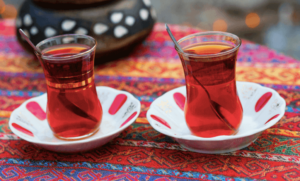 Inane Gurbuz, Executive Manager EMEA of Azkan Group and professional coach in Turkish Management, shares an excerpt "Daily life of Turkish" from his book "Doing business in Turkey: a guide to success"
Hospitality, solidarity, and mutual aid
Hospitality, hospitality, hospitality! Tourists visiting Turkey regularly
return home charmedby the warmth and friendliness of the
Turks.
In Turkey, everything is an excuse to drink a cup of tea together:
a chance meeting, a visit witha trader in the Grand Bazaar, a business
meeting, a dentist appointment, a visit to the jewellery shop, a
chat with one's neighbour. . . On every occasion, the Turks will insist
on offering you a glass of tea over which to chat, discuss, or simply
spend time together. In a world of "time is business," in Turkey, time
is "elastic".
Solidarity! A more subtle notion for outsiders to perceive: the
Turks help each other enormously. In both Istanbul andin London,
it is unusual to see a homeless Turk. There is always someone from
theirTurkish network who can accommodate them.
At the slightest financial difficulty, Turks from the same group
will get together to help their comrades. I have heard similar stories
many times: following a dismissal, a bankruptcy, or an extended period of unemployment, a couple with children will be taken in by their parents or friends. Because welfare benefits are almost non-existent, the Turks have developed a parallel social system.
Similarly, the Turks help each other toward "events" that are
celebrated at every stage of life: (birth, a child's first tooth, circumcision, military service, etc.). This is also an opportunity to give a 46 Doing business in Turkey: a guide to success
273498SNI_TURKEY_cs6.indd 46 28/11/2016 10:29:51
little financial help by offering a piece of gold (worth €50‑200 euros
each in weight). In thanks, we should "return the favour" when the
occasion presents itself.
People who want to make business in Turkey should know the daily life of Turkish
Superstitions
There are lot of aspects of daily life of Turkish.
Turkey is a very superstitious country! The "Nazar boncuk" is the emblem of this. Contrary to appearances, it is not a religious
symbol at all. Moreover, representation is forbidden in some religions, and this is fundamental to Islam for one. Mosques (as well
as Protestant and Confucian churches and temples) are devoid of statues and images; their religious practice primarily involves writing. Hence the popularity of arabesques in Islamic art.
Nazar boncuk is a Turkish particularity. Our Turkish friends are
very superstitious. This blue pearl in the form of an eye is supposed to protectpeople from the evil eye. The power of the evil eye in everyday life is recognized and feared by everyone in Turkey. The word "Nazar" means to see or watch. Too many compliments or too much flattery can eventually take the form of jealousy and have a negative effect. So Turkish mothers attach this little brooch onto their children's clothes. If it splits, it is proof that it has fulfilled its protective role and it is immediately replaced. The same is true at the entrances of houses; the blue eye is there to protect both the house and the members of the family.
From another point of view, Turkish coffee also carries its share
of superstition. Clairvoyance involves interpreting the signs left by
the coffee grounds in the empty cup.
And also. . . military service
The army holds a special placefor the Turks and is very highly regarded. Here, the connection with the founder of modern-day Turkey, Atatürk, who was a former officer, takes on its full meaning. The Turks show a deep respect for their army, and military service is a cornerstone in the life of every Turk. No career or marriage can begin until a man has fulfilled his military duty.
The rest of this text is available in our book "Doing business in Turkey: a guide to success" . Since 2005, AZKAN Group has acted as a consulting firm for all your development projects in the Turkish market: consulting in implementation, detection of partners, market research, Recruitment Turkey, Understanding Payroll Turkey services ….